Welcome to our parish website
Live Streaming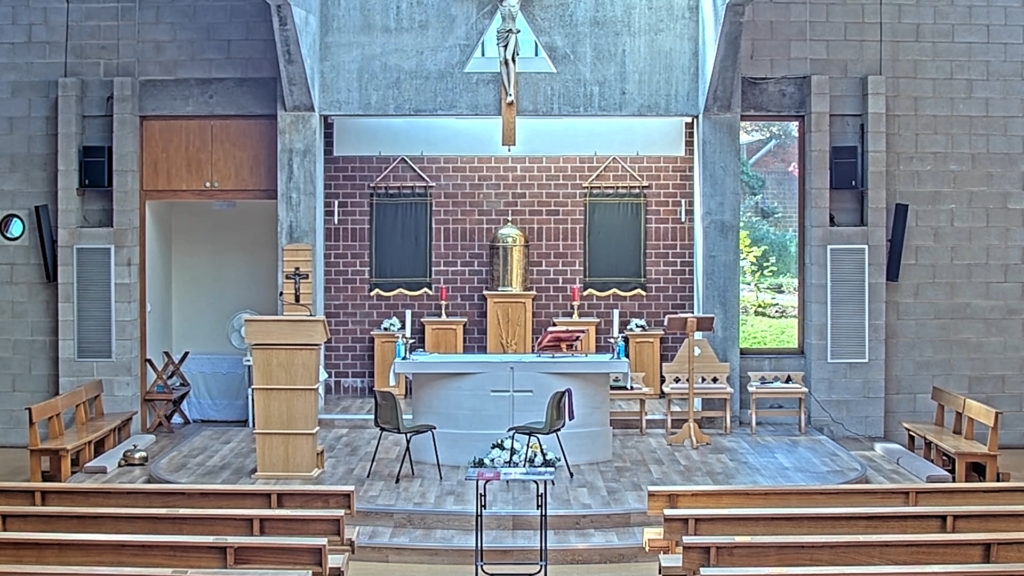 We are now live streaming on youtube. We are also using the camera to continue our facebook streaming as normal.
Follow the daily Readings at Mass. Universalis or Alive Publsihing
Make an Act of Spiritual Communion: This can be done whilst you watch a live stream of Mass by saying the following prayer:
"My Jesus, I believe that You are present in the Most Holy Sacrament.
I love You above all things, and I desire to receive You into my soul.
Since I cannot at this moment receive You sacramentally, come at least spiritually into my heart. I embrace You as if You were already there and unite myself wholly to You. Never permit me to be separated from You."
This weeks newsletter: link . To receive the weekly newsletter by email click link.

Pope Francis is calling for a two-year period of  discernment of where the Holy Spirit is leading the Church. He wants to involve every member of the Church worldwide in this process, and he wants this to be a real process of discernment of where the Holy Spirit is leading us, not just a talking shop. It is intended to produce very concrete ideas. Every parish in the world is asked to take part.  To start the ball rolling there is a questionnaire :
Paper Questionaire  / Online Questionaire
Please think and pray about the questions, discuss them with your family and let me have your responses. You can email these to me, or write/type them and hand them in.
Pastoral Letter from Archbishop Bernard Longley: The Synodal Pathway  16th October 2021.  Watch https://youtu.be/wFcOEPiyyMA   Listen link  Read 211015 pastoralletter-twenty-ninthsundayinordinarytime(16-17october2021)
The Coventry Circle of the Newman Association is part of the Newman Association and our members are drawn mainly from Catholic parishes in Coventry, Warwickshire and Rugby. The national Association, founded in 1942, is inspired by Saint John Henry Newman and seeks to promote greater understanding of our Catholic faith in the contemporary world. The Circle has approaching 50 members. Each year we organise a series of talks with speakers on a theme related to theology, scripture, spirituality, pastoral life, Catholic culture and history, ecumenism or interfaith dialogue. We also strive to deepen our faith through Circle Masses, an annual Retreat, a reading group, ecumenical outreach and social activities. Below is the link to  programme of lectures from September 2021 to May 2022. All are delivered on zoom at 7.30pm. In the future, as we emerge from the pandemic, it is envisaged that more of our talks will be delivered in a hybrid form, with some meeting in a physical venue and others zooming in. Coventry Newman Circle.
Sacred Heart Youth Alpha is here!  So for all our young people aged 14 – 17 years – Please join us and the Alton Castle Team online for Virtual Youth Alpha. This is for you and you are invited, all you need is WiFi. Parents please email youthalphacov@gmail.com. Everyone must register in advance to receive login details. Poster link.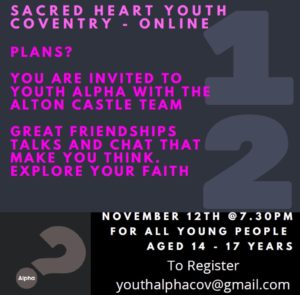 I'm only a phone call or an email away, and so are you!
May God bless you all,
Fr Tony Norton, Parish Priest of Sacred Heart.