Welcome to our parish website
Live Streaming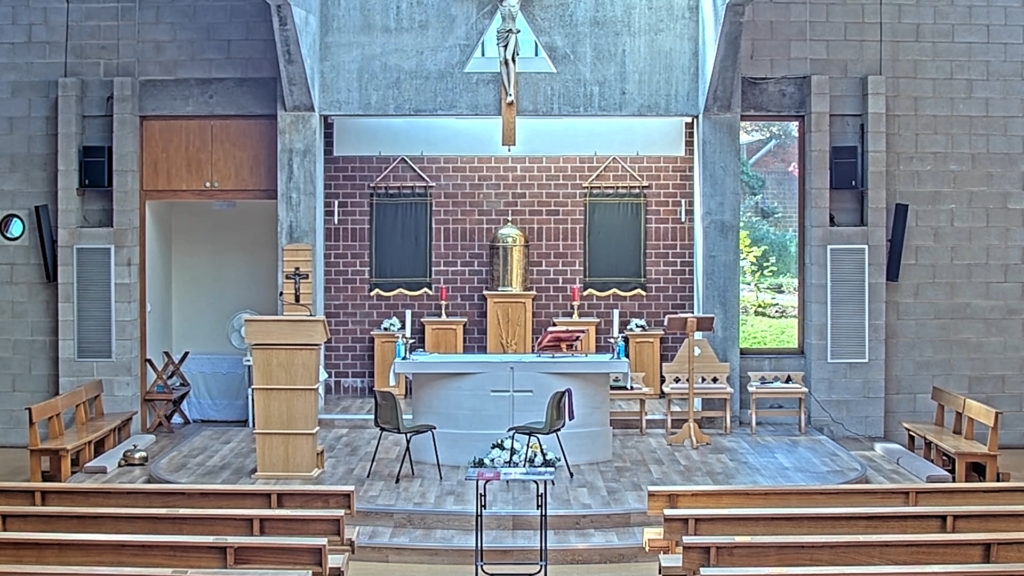 We are now live streaming on youtube
We are also using the camera to continue our facebook streaming as normal.
Re-opening of Sacred Heart Church for Public Mass.
Public Mass with Congregation:  Saturday 5pm, Sunday 10.30am, Wednesday 6.30pm, Friday 9am
Sacred Heart Youth Alpha is here!  So for all our young people aged 14 – 17 years – Please join us and the Alton Castle Team online for Virtual Youth Alpha. This is for you and you are invited, all you need is WiFi. Parents please email youthalphacov@gmail.com. Everyone must register in advance to receive login details. Poster link.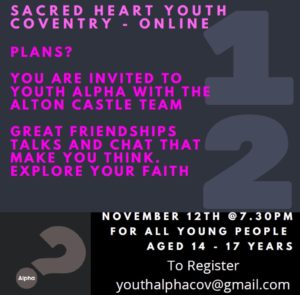 Baptisms. These are now resuming and so if you need to arrange, or re-arrange a previously booked Baptism that could not take place due to Lockdown, please do contact me.
Confessions. We will be resuming Confessions on Saturdays from 4.00pm to 4.30pm. We will trial this time to see how it works. Parishes are not allowed to use confessionals as these are enclosed spaces and so when you arrive at Church the stewards will find seats for you. Confessions will be heard on the sanctuary (as we do for our Advent and Lent Penance Services.) After you have finished the priest will wipe down your chair before the next person comes for confession.
Track and Trace. Starts this weekend. We have been asked by the church to implement this as it is being practised by hairdressers, cafes etc. Each time you come to Church please bring with you your name and phone number and put it in the black metal box in the entrance. (If you live in the same household only one name/number is needed) Each day the contents will be dated and stored in the safe. After 21 days they will be destroyed so we will constantly be destroying the list from 22 days ago and will only hold the latest 21 days of contact details should NHS Track and Trace teams need to contact you.
Live Streaming of daily Mass via facebook –  link
9am Mass is being streamed to the parish Facebook page: Sacred Heart Catholic Church Coventry.  The Live Stream should become active about 8.50am.
Follow the daily Readings at Mass. Universalis or Alive Publsihing
Make an Act of Spiritual Communion
This can be done whilst you watch a live stream of Mass being offered. You can make an act of Spiritual Communion by saying the following prayer:
"My Jesus, I believe that You are present in the Most Holy Sacrament.
I love You above all things, and I desire to receive You into my soul.
Since I cannot at this moment receive You sacramentally, come at least spiritually into my heart. I embrace You as if You were already there and unite myself wholly to You. Never permit me to be separated from You."
This weeks newsletter: link  Track and Trace Parish Notice

You can receive the weekly newsletter by email.  You can automatically unsubscribe at any time. 
To help us to grow and deepen our faith in these unusual times, I would like to draw your attention to a number of resources link
I'm only a phone call or an email away, and so are you!
May God bless you all,
Fr Tony Norton, Parish Priest of Sacred Heart.